It's been a while since I've been regularly blogging so I thought I'd give an update on what products I'm loving at the minute. Mixture of skincare and cosmetic, but since the Spring is here and the weathers warmer I find myself wanting to wear less and less makeup. So this post features lots of pretty glowy products perfect for spring.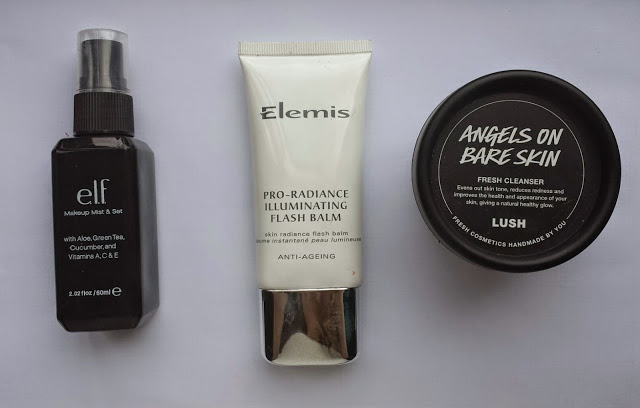 Another star product is a long time favourite of mine that I've recently rediscovered. The Elemis Pro-Radiance Illuminating Flash Balm, this is a cream with a gel like consistency that smoothes your skin and I've loved using it if I'm wearing no makeup or need an added boost under my makeup. When I've put it on I find that it doesn't completely sink in and it feels sticky on my skin, this is great for under makeup as this finish makes a good primer for foundation.
I've never been a huge fan but makeup setting sprays have always intrigued me. Whether they actually work and what benefit they give. When I was in America I picked up this budget option from ELF, it was only $3 so definitely a budget pick but I can tell a difference when I don't use this and when I do. When I first apply it it leaves my face slightly damp but after a minute or two it dries and leaves my makeup completely matte and I find the colours are more vibrant and I look glowier without being shiny and my foundation lasts all day without fail. This has added vitamins, I don't expect much of them because of the price tag but they smell amazing and I find it a very therapeutic product to have in my handbag for top ups.
Makeup –
My makeup has also transitioned for spring, everything is lighter and more glowy. Since starting university last year my attitude to makeup has definitely changed for the better.
Now I know that makeup wipes are a big no no but personally I've always been a fan and will continue to be. I picked up these Johnson's wipes in the airport on my way to America and they're great. Soft on the skin they remove all makeup with ease without leaving residue or drying out your face. These permanently live in my handbag, they're ideal for after nights out when you need your makeup off super quick. A staple for me in my routine. A new product to the blog is the ELF HD lifting concealer, with packaging simular to the Nars concealer I had high expectations of the formula and I was not disappointed. It's creamy sheer/medium coverage has illuminating qualities that reflect light away from any blemishes. I've been using this just on blemishes and discoloration and it does last really well. Again as it is an ELF product it's very affordable costing only $3, I can see myself getting a lot of use out of this.
Continuing on the spring makeup trends, Benefits High Beam is an everyday essential when I'm wearing makeup. It lifts the cheekbones and makes the skin glisten, because of my skin type I struggle with illuminating foundations as they make my skin even more oily. So I use a matte foundation and then add highlight on top. This is a cult fave, with its pearl finish and lightweight blendable texture it's an absolute staple for any beauty girl that's worth every penny.
My new faveourite mascara only costs £2 and it's the amazing curve mascara from Makeup Revolution. This new brand brings amazing value for money. The slightly curved bristle brush picks up each lash and creates a naturally fluttery effect that's perfect for everyday wear. It's easily build-able with other products if you're after a more dramatic effect but this is a no fail product for me. I've been loving it and no doubt it'll take something spectacular to change that.
Lastly the Rimmel Match Perfection concealer with highlight. One of the perks of this product for me is the packaging. With a brush applicator it makes it so easy and quick to apply. I use this only under my eyes and it's great for concealing dark circles and the built it highlight is perfect for brightening up a tired face.
So there's my current beauty faves! let me know yours below or tweet me!
@teenworkaholic
Xoxo TW